Press Release: 29th Oct 2008, Wednesday 15th Katik (Samvat 540 Nanakshahi )
Lisbon, Portugal - Earlier this month, Portuguese police did not charge a Sikh for wearing his kirpan (a religious blade and one of the Sikh articles of faith), even though its blade exceeded the legal limit, because they recognised its religious significance.
Gurmail Singh had approached UNITED SIKHS for assistance in February this year after his kirpan was confiscated at the British Embassy in Lisbon, where he had gone to obtain a visitor visa. He was facing the possibility of a charge of carrying a weapon contrary to Portuguese law, namely Article 4 of Law 5/2006 of 23 February. He was summoned to attend the police station on 14th October for an interview for the police to determine if he was to be charged for carrying a bladed article that was 13 cm long, contrary to the law which allowed a blade less than 10cm long. UNITED SIKHS briefed Gurmail Singh's lawyer, Carla Grandela, on the significance of the kirpan to an initiated Sikh and also arranged for a local Portuguese Sikh resident, Satya Kaur, to accompany him.
After 45 minutes, the interviewing officer decided not to charge Gurmail Singh, an Indian national with a Portuguese residency card, saying that he knew that Sikhs were peace loving and hardworking people and accepted the religious significance of the kirpan. The police officer informed Gurmail Singh that he may wear a kirpan provided its blade is under 10cm long. He also informed Gurmail that on this occasion, he would not be charged but would be required to donate 200 euros to a registered charity within one week and not to commit any offences within a four month period, after which his file would be closed.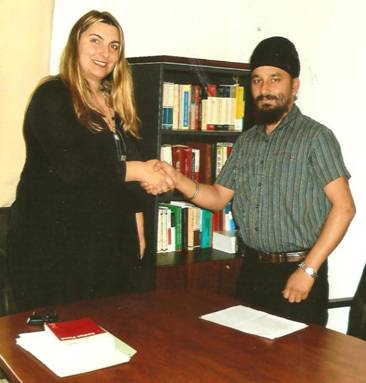 Gurmail Singh and his Portuguese lawyer Carla Grandela
"The interviewing officer was very receptive about the Sikh community and said that he respects the Sikh community. I am glad that Gurmail Singh's case has highlighted the law regarding the wearing of the kirpan in Portugal", said Miss Grandela.
"I am grateful to the Portuguese police for showing sensitivity and understanding about my religious requirements by allowing me to wear the kirpan. I am delighted that the outcome was for the benefit of all Sikhs and thank UNITED SIKHS for coming to my assistance," said Gurmail Singh

Mejindarpal Kaur, UNITED SIKHS's legal director, said, "Whilst we are very happy that Gurmail Singh wasn't charged by the Portuguese police, we are disappointed with the British Foreign Commonwealth Office (FCO) and the Embassy, for allowing Gurmail Singh's kirpan to be confiscated on their premises."
"It's not against the law in the UK to wear a kirpan of any length. Demanding that Gurmail Singh removes his kirpan is akin to demanding a Christian priest to remove his or her crucifix. It also amounts to discrimination as this was an unjustified and disproportionate interference with his right to manifest his religious belief, which is a breach of Article 9 of the European Convention on Human Rights. The security staff also acted disproportionately by calling armed police officers simply because Gurmail Singh was manifesting his religious belief."
The FCO and British Embassy have not given a satisfactory response to UNITED SIKHS's complaint, after sending a holding reply.
Gurmail Singh had entered the British Embassy to apply for a visitor visa when security staff at the entrance to the Embassy demanded that he remove his kirpan and leave it with them whilst he attended his interview. Gurmail Singh duly complied with their instructions and after his interview returned to the entrance find five to six armed police officers with their guns pointed towards him. Gurmail Singh tried to explain to one of the officers that he was an initiated Sikh and that the kirpan was an article of his faith. However, he was arrested and taken to a police station where he was questioned for two hours before being released without his kirpan.
Satya Kaur, who accompanied Gurmail Singh to the police interview recently, said, "There are few Sikhs in Portugal and even fewer initiated Sikhs. Hence, they do not constitute a pressure group in Portuguese society, for their right to exercise their religious life style. This will undoubtedly change in time."
Advice for wearing a kirpan in Portugal - • Sikhs are allowed to wear a kirpan in public places but only if the blade or "lamina" is less than 10cm. Please see diagram below. If the blade is equal to or more than 10cm, the kirpan would be classed as a weapon or "arma branca" (Article 2(1)(l) of Law 5/2006 of 23 February) and would render the wearer liable to prosecution. For a copy of the law (in Portuguese) , please click here: http://www.gnr.pt/portal/internet/legislacao/pdf/lei5_2006.pdf
• It is advisable to wear the kirpan underneath clothing so as not to cause alarm or unwanted attention. Sikhs are a small community in Portugal and are relatively unknown.
• If you are stopped for wearing a kirpan in Portugal or any other country, please report the incident to UNITED SIKHS by contacting us on +44 (0) 870 1993328 or email us at law@unitedsikhs.org
• For information about the status of kirpan in other countries, please email law@unitedsikhs.org
Issued By:Gurpreet SinghInternational Civil and Human Rights AdvocacyUNITED SIKHS+44 7709830442mailto:law-uk@unitedsikhs.org

---
Our Mission
To transform underprivileged and minority communities and individuals into informed and vibrant members of society through civic, educational and personal development programs, by fostering active participation in social and economic activity.
UNITED SIKHS is also an avenue for networking between like-minded organisations to establish and nurture meaningful projects and dialogues - whether social, cultural or political- to promote harmony, understanding and reciprocity in our villages, towns and cities.
UNITED SIKHS is a coalition of organisations and individuals, who share a common vision based on the belief that there is no greater endeavour than to serve, empower and uplift fellow beings. The core of our philosophy is an unwavering commitment to civic service and social progress on behalf of the common good.
Accordingly, UNITED SIKHS has sought to fulfil its mission not only by informing, educating and uplifting fellow beings but also by participating in cross-cultural and political exchanges to ensure that the promises and benefits of democracy are realized by all.
We at UNITED SIKHS believe that the development of enlightened and progressive societies can be made possible by socially conscious groups of people who make a commitment to develop and direct human potential. Our work, efforts and achievements stand as a testament to our faith in this vision.