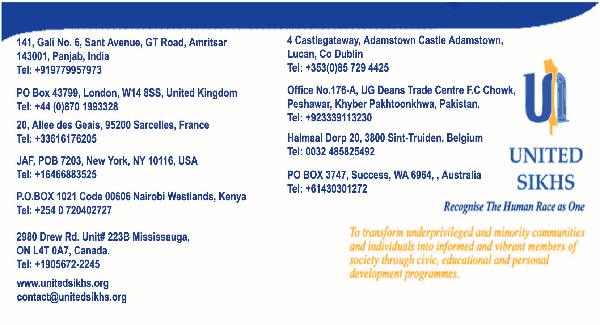 To Get Involved, Click here and Join UNITED SIKHS
To receive forthcoming bulletins join our UNITED SIKHS Yahoo group
To donate go to www.unitedsikhs.org/donate
This Press Release may be read online at: http://www.unitedsikhs.org/PressReleases/PRSRLS-22-11-2008-00.htm
Press Release: 22nd Nov 2008, Tuesday 9 Maghar (Samvat 540 Nanakshahi )
Press Release
Sikhs Raise Religious Freedom Issues in the Belgian Media
Brussels, Belgium - UNITED SIKHS, in conjunction with Belgian Gurdwaras ( Places of worship), issued a statement airing concerns for religious freedom in Belgium, which was carried in full in a prominent Belgian daily newspaper, Le Soir, on 18 November 2008. This statement which was supported by Gurdwara Guru Nanak Sahib, Vilvoorde; Gurdwara Sangat Sahib, Sint-Truiden; Gurdwara Guru Ram Das, Hoepertinger; Guru Nanak Sikh Society, Sint-Truiden; Gurdwara Sahib Liège, addressed issues following a police raid a month earlier on the Sikh Gurdwara in Vilvoorde, which stopped the non-stop recitation of Sri Guru Granth Sahib Ji, the Sikh scriptures. The non-stop prayers were being conducted to celebrate the tercentenary of the enthronement of Sri Guru Granth Sahib Ji. Read about the raid at http://www.unitedsikhs.org/PressReleases/PRSRLS-19-10-2008-00.htm
"The Belgian constitution protects religious freedom and the government has a duty to ensure that all religious minorities enjoy the same rights as the religions practised by the majority," said Mejindarpal Kaur, UNITED SIKHS legal director who met the Mayor and Police Chief of Vilvoorde following the police raid.
Below is an English translation of the statement in Le Soir. The original French version of the statement in Le Soir may be read here.
For the adoption of a coherent policy adapted to the issue of religious minorities
Tuesday 18 November 2008, 08:42
The police raid at the Vilvoorde Sikh temple (Gurdwara) on 19 October 2008 has generated a notable interrogation in our community: do we have to be a "recognised" religion to get respect for our specificity in Belgium? A place of a so-called "recognised" religion, such as a church, a mosque, a synagogue, a protestant temple or a Masonic temple would not have been raided. The "recognition" which is a simple discretionary political decision, which gives access to funding, should not have any incidence on the rights that every religion and every practicing believer gets from the Constitution and the ECHR (European Convention on Human Rights) , which does not distinguish between "recognised" religions and the others.
Our religion, founded in the 15th century by Guru Nanak, is monotheist and preaches a message of understanding and peace and total equality of men and women before god, whatever be notably their religion and race, including in religions functions. The social conscience and service to humanity are part of the fundamental principles of Sikhism.
We are very honoured that His Majesty, the King Albert II and his wife, Her Majesty, the Queen Paola, accompanied by several Belgian personalities could, during their official visit to India, be welcomed in a historical Sikh Gurudwara of the 17th century, Bangla Sahib at New Delhi. It is for us, a great honour which makes us proud and touches us. (You may read an article in Le Soir on the Belgian King and Queen's visit to Bangla Sahib here. The English translation can be read here.)
Belgian King and Queen's visit on 5 nov 2008 to historical 17th century Sikh Gurdwara Bangla Sahib, New Delhi
During the Partition of India, the Sikhs were caught between the Muslim and Hindu communities, a source of several difficulties and the cause of waves of emigration and independence movements.
Belgium is a land of hospitality and it is for this reason and because of historical links that the Sikhs have chosen to become citizens and residents of Belgium. During the two world wars, 80,000 Sikhs died on the battlefield including 35,000 at Ypres. We are proud that the Sikhs severed the cause of liberty and justice in Europe and Belgium. We do not want this fight for justice and liberty to go in vain. We also wish to express the profound respect that we have for the laws and values that govern Belgium and our desire to be its loyal citizens.
The Sikh community counts between 5,000 and 10,000 representatives in Belgium and has four Gurdwaras. The 19 October police raid in the Vilvoorde Gurdwara has wounded a pillar of our religion, which is particularly proud of its long tradition of hospitality and aid to the poorest, without discrimination.
In each Gurdwara, a community kitchen prepares and serves food to the visitors ("langar").
It is especially painful for us that some people associate this institution with criminal activities. The forces of order ignored that in a Gurdwara, one should cover the head and remove one's shoes. The most important recitation of the year was interrupted. We are extremely hurt by the fact that nothing was foreseen on this issue and that the police did not find a way to proceed that would respect our traditions.
The reason for this is that in Belgium, there is no framework ensuring effective organisation and protection in the public sphere of this religious freedom. There isn't any representative authorised nor any channel of communication privileged between the government and the unrecognised religious minorities.
Not being a "recognised" religion causes us other difficulties. In a Gurdwara, extracts of our Sacred Scriptures, Sri Guru Granth Sahib Ji must be read everyday, requiring the permanent presence of a "granthi" (a person who conducts prayers).
Visas for these "ministers of faith" are reserved for the ministers of "recognised" faiths, which is not in accordance with the Constitution and the ECHR.
This might, in Belgium, lead to a decline in our practice, which is the vigilant support for our moral values and the guarantee of our loyalty and our attachment to Belgium.
Wearing the turban, which covers our uncut hair, is a requirement of our faith and is part of our dignity and identity. The ban on "ostensible" religious symbols in certain schools forces our adolescents to resign themselves to cutting their hair, to keep them long or change school and travel for long distances to be accepted. The custom checks in Belgium force Sikhs to remove their turban. In most of the other countries, the checks are carried out in a more respectful manner. However, it is wearing the turban that the soldiers of the Sikh regiment fought during the two world wars in Europe. It is thus covered with a light blue turban that the Sikhs serve in the peacekeeping forces of the United Nations at all moments.
The diversity in the domain of religious expression must not hide the profound convergence of fundamental values. Respect for differences in the private as well as public spheres can in our opinion only help in maintaining and reinforcing this unity.
Knowing us and understanding us better contributes to this desire to hold high the fundamental values that constitute the common basis of humanity. Mutual cognizance is the incontestable guarantee for respect and understanding. Our Tenth Guru recommends that we "recognise the human race as one."
We thus hope, respected sir, for the adoption of a clear, coherent and adapted policy, in accordance with the Constitution and the ECHR in the matter of religious minorities, an improvement of relations and exchange of information on this issue, which would avoid certain difficulties and recourse to courts to assert the fundamental rights and to put an end to all ambiguity between the rights of the so-called "recognised" religions and the others.
We would like to thank you on behalf of all the Sikhs in Belgium.
Issued By:
Gurpreet Singh
ICHRA
UNITED SIKHS
Phone: +44 7709830442
Email: law@unitedsikhs.org
---
Our Mission
To transform underprivileged and minority communities and individuals into informed and vibrant members of society through civic, educational and personal development programs, by fostering active participation in social and economic activity.
UNITED SIKHS is also an avenue for networking between like-minded organisations to establish and nurture meaningful projects and dialogues - whether social, cultural or political- to promote harmony, understanding and reciprocity in our villages, towns and cities.
UNITED SIKHS is a coalition of organisations and individuals, who share a common vision based on the belief that there is no greater endeavour than to serve, empower and uplift fellow beings. The core of our philosophy is an unwavering commitment to civic service and social progress on behalf of the common good.
Accordingly, UNITED SIKHS has sought to fulfil its mission not only by informing, educating and uplifting fellow beings but also by participating in cross-cultural and political exchanges to ensure that the promises and benefits of democracy are realized by all.
We at UNITED SIKHS believe that the development of enlightened and progressive societies can be made possible by socially conscious groups of people who make a commitment to develop and direct human potential. Our work, efforts and achievements stand as a testament to our faith in this vision.
-----------------------------------------------------------------------------------------------------------------------------------------------------------------------------------------------
Pour l'adoption d'une politique cohérente et adaptée au sujet des minorités religieuses
mardi 18 novembre 2008, 08:42
La descente de police au temple (Gurdwara) Sikh de Vilvorde le 19 octobre dernier a suscité dans notre communauté une vive interrogation : faut-il être une religion « reconnue » pour bénéficier du respect de notre spécificité en Belgique ? Un lieu d'un culte dit « reconnu », tels une église, une mosquée, une synagogue, un temple protestant ou un temple maçonnique n'aurait pas fait l'objet d'une telle descente. La « reconnaissance » en Belgique est une simple décision politique discrétionnaire qui donne accès à des financements, et qui ne devrait avoir aucune incidence sur les droits que chaque religion et que chaque pratiquant tire de la Constitution belge et de la Convention européenne de sauvegarde des droits de l'homme (CESDH), qui ne font aucune distinction entre les cultes « reconnus » et les autres.
Notre religion, fondée au XVe siècle par Guru Nanak, est monothéiste et prêche un message d'entente et de paix et d'égalité totale des hommes et des femmes devant dieu, quelles que soient notamment leur religion et leur race, y compris dans les fonctions religieuses. La conscience sociale et le service à l'humanité font partie des principes fondamentaux du Sikhisme.
Nous sommes très honorés que Sa Majesté le Roi Albert II et son épouse Sa Majesté la Reine Paola, accompagnés de nombreuses personnalités belges, aient pu lors de leur visite officielle en Inde être accueillis dans un Gurdwara Sikh historique du XVIIe siècle, Bangla Sahib à New Delhi. C'est pour nous un très grand honneur dont nous sommes à la fois fiers et émus.
Lors de la Partition de l'Inde, les Sikhs furent pris entre les communautés musulmanes et hindouistes, source de nombreuses difficultés et à l'origine de vagues d'émigration et de revendications indépendantistes.
La Belgique est une terre d'accueil et c'est pour cela, ainsi que pour les liens historiques, que des Sikhs ont choisi de devenir citoyens et résidents de Belgique. Durant les deux guerres mondiales, 80.000 Sikhs sont morts sur le champ de bataille, dont 35.000 à Ypres. Nous sommes fiers que des Sikhs aient servi la cause de la liberté et la justice en Europe et en Belgique. Nous ne désirons pas que ce combat pour la justice et la liberté soit vain. Nous tenons aussi à exprimer le respect profond que nous portons aux lois et valeurs qui régissent la Belgique et notre volonté à en être de loyaux citoyens.
La communauté Sikh compte entre 5.000 et 10.000 représentants en Belgique qui y disposent de quatre Gurdwara. La descente de police de ce 19 octobre dans le Gurdwara de Vilvorde touche un pilier de notre religion, qui est particulièrement fière de sa longue tradition d'accueil et d'aide aux plus démunis, sans discrimination.
Dans chaque Gurdwara, une cuisine communautaire prépare et sert de la nourriture aux visiteurs (« langar »).
Il nous est particulièrement douloureux que certains associent cette institution avec des activités criminelles. Les forces de l'ordre ignoraient que dans un Gurdwara il convient de se couvrir la tête et de retirer ses chaussures. La récitation la plus importante de l'année a été interrompue. Nous sommes fort heurtés par le fait que rien n'est prévu en cette matière et que les forces de l'ordre n'aient pas trouvé une manière de procéder respectueuse de nos traditions.
Une raison est qu'il n'existe en Belgique aucun cadre assurant l'organisation effective et la protection dans la sphère publique de cette liberté religieuse. Il n'y a aucun interlocuteur autorisé, ni aucun canal privilégié de communication entre le gouvernement et les minorités religieuses non reconnues.
Ne pas être une religion « reconnue » nous cause d'autres difficultés. Dans un Gurdwara, des extraits de nos Ecritures Sacrées, Sri Guru Granth Sahib Ji doivent être lus tous les jours, requérant la présence permanente d'un « granthi ».
Les visas pour les « ministres du culte » sont réservés aux ministres de cultes « reconnus », ce qui n'est pas conforme à la Constitution et à la CESDH.
Ceci risque d'entraîner en Belgique un déclin de notre pratique, qui est le soutien vigilant de nos valeurs morales et le garant de notre loyauté et de notre attachement à la Belgique.
Le port du turban, qui couvre nos cheveux non coupés, est une exigence de notre confession et fait partie de notre dignité et de notre identité. La prohibition des signes religieux « ostensibles » dans certaines écoles oblige nos adolescents à se résigner à se couper les cheveux, à les porter longs, ou à changer d'école et à faire de longs trajets pour être acceptés. Les contrôles de douane et d'immigration en Belgique obligent les Sikhs à retirer leur turban. Dans la plupart des autres pays, les contrôles se font de façon plus respectueuse. C'est pourtant coiffés du turban que les soldats du régiment Sikh combattirent durant les deux guerres mondiales en Europe. C'est aussi couverts d'un turban bleu clair que les Sikhs servent dans les forces de paix des Nations unies, ceci à tout moment.
La diversité dans le domaine de l'expression religieuse ne doit pas masquer la profonde convergence des valeurs fondamentales. Le respect des différences, dans la sphère tant privée que publique, ne pourra à notre avis qu'aider à entretenir et renforcer cette unité.
Mieux nous connaître et nous comprendre participe à cette volonté de porter haut les valeurs fondamentales qui constituent le fonds commun de l'humanité. La connaissance mutuelle est le garant du respect et de l'entente. Notre dixième Guru nous commande de « reconnaître la race humaine comme une seule race ».
Nous aspirons dès lors, Monsieur le Ministre, à l'adoption d'une politique claire cohérente et adaptée, conforme à la Constitution et à la CESDH, au sujet des minorités religieuses, à une amélioration des relations et des échanges d'informations à ce sujet, ce qui évitera certaines difficultés et d'avoir recours à des tribunaux pour faire valoir des droits fondamentaux et permettra de mettre fin à toute équivoque entre l'étendue des droits des religions dites « reconnues » et les autres.
Nous vous en remercions, de la part de tous les Sikhs en Belgique.